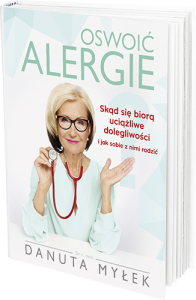 Popular science book, handbook, autobiography and medical novel in one. Not only for allergy sufferers.
What kind of book is it? Popular science? Yes. Guide? I guess too. Someone pointed out that my book is also a bit like a medical novel, the main characters are my patients with me in the background. In a way, it is also a kind of autobiography – from the introduction to the book "Tame allergies" by DanutaMyłek,DMSc.
A book that will answer your questions where the troublesome ailments related to allergies, food hypersensitivity, autoimmune diseases come from and how to deal with them.
DMSc DanutaMyłek introduces us to the secrets of the fascinating world of allergies. It explains the mechanisms of allergies and shows how to recognize and treat related diseases. This knowledge is to give us a consciousness without wchich it is difficult to recover. Only a patient who can visualize the processes taking place in his body will understand how important it is to introduce changes in everyday life and support the doctor's efforts. A healthy lifestyle is the key to success.
The book also contains chapters on causes, diagnostics of autoimmune diseases, diseases of the central nervous system, and the motor system as a result of the harmful effects of food, and a chapter on the prevention of allergies from the day of birth. It also includes a number of general tips to stay healthy.
The book is available in the office
or handlowy@burdamedia.pl, tel. +48 694 455 422, Empik and online bookstores